BIO
Shane Pennington's work engages the balance, and fragility, of essential dichotomies. Between the ephemeral and the enduring, nature and the human construct, Pennington's subjects are often skewed metaphorically and physically, prompting the viewer to contemplate life and its meaning from an alternative perspective. His use of many media and textures, from scultpure and painting to digital video, allows for a diverse artistic language. The resultant works conjure an energy that reflects upon life, death, cycle, and universal consciousness.
Shane Pennington is a Dallas-based artist and a co-founder of AURORA, a public arts organization working at the intersection of art, technology and community that presents works by the most visionary artists of our time. To date AURORA has attracted more than 300,000 visitors and has commissioned over 320 local and international artists. AURORA has expanded over the years from a small public arts organization to a multifaceted institution with the ability to give back to artists and creatives in the region. Pennington was a recipient of the "New Dallas Nine" award from D Magazine and has exhibited internationally at the Paddington Contemporary Gallery in Sydney, Australia and at Sur la Montagne, Berlin. He also counts many world-recognized institutions and corporations among his collectors, including Alana in Sydney, The Gaedeke Group, Caldwell Cassady & Curry, Autonomy, The Regis Corporation, Dallas City Hall, Moody Performance Hall, TEDxSMU, and JP Morgan Chase, by whom he was commissioned to install his work in the lobby of their flagship tower in Dallas.
"Much of the subject matter within my work is influenced from nature and its relationship to humanity and spirituality. I frequently draw inspiration from the unique geological area of the Texas Hill Country, where the landscape is both beautiful, yet at times arid and unforgiving. In contrast, within this struggle for resources, you will also see magnificent old oak trees. The landscape provides a base within my work as it reflects upon our struggles in life and purpose in life. I often contemplate a future point when our environmental state may be further depleted. This compels me to document, record, and draw inspiration from the natural world that is currently before us."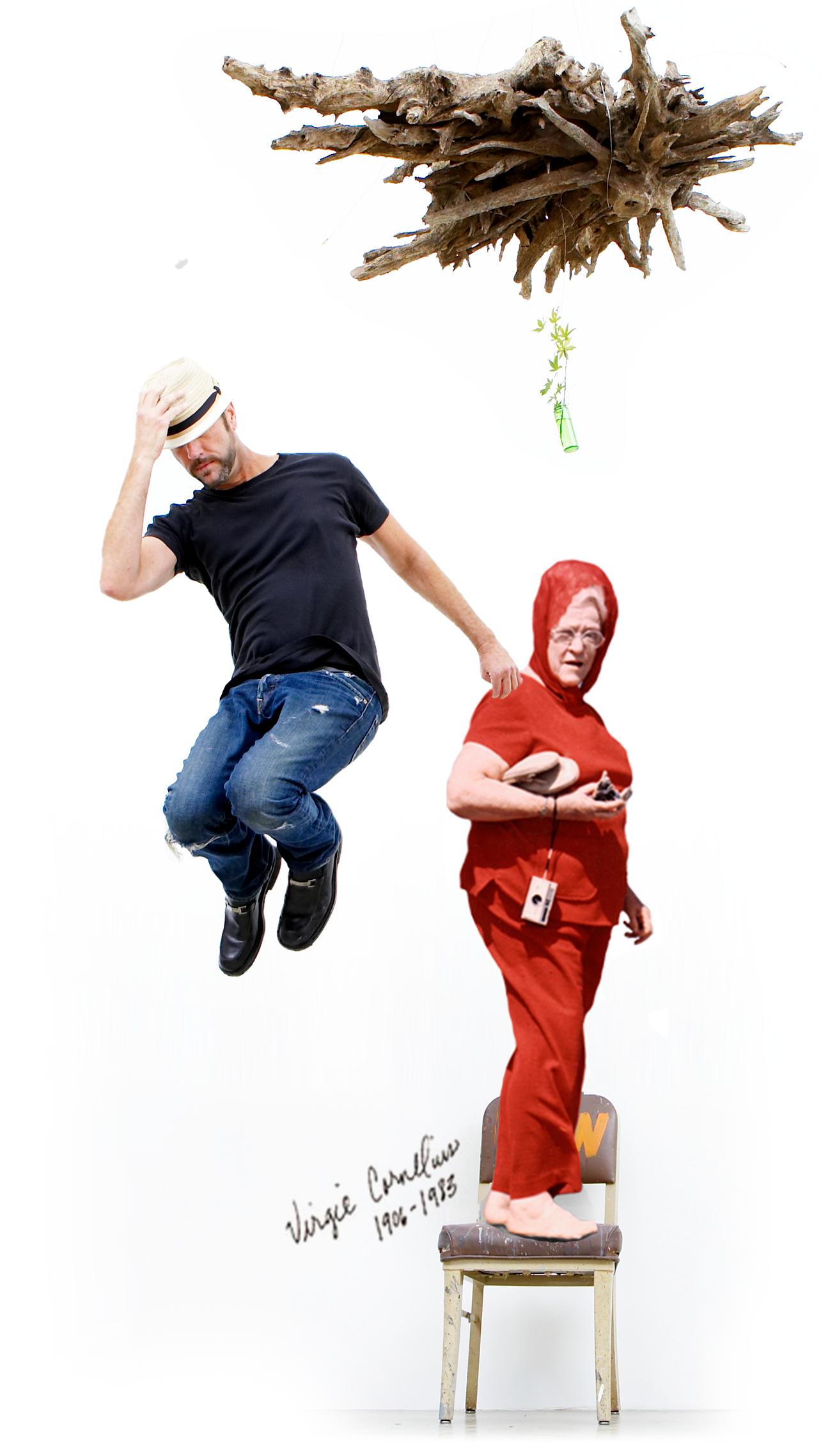 CV
Education
Studied under Artist Virgie Cornelius, founder of Llano Art Guild
Texas Tech University, B.B.A. MIS
Honors and Awards
2023 Patron Magazine June -July issue / Art Influencers
2015 Selected by the City of Dallas Cultural Affairs, Love Field Modernization Program -Artist Selection Panel
2012 Commissioned artist by City of Dallas Office of Cultural Affairs for the Dallas City Performance Hall "Points of Life"
2011 Selected by the Dallas Arts District and TEDxSMU , public art installation "Transcendence"
2011 The MasterMinds Finalist: Dallas Observer
2010 Selected by the City of Dallas Cultural Affairs as a preapproved artist on their selection list for public art.
2009 New Dallas Nine Award
2009 NYArts Magazine Top 500 Artists' Websites
2009 Selected Artist for The Texas Sculpture Association Juried Art Show
Group Exhibitions
2023 Therein, Waterfall Gallery, NY
2023 Blooming Resilience, Waterfall Gallery, NY
2022 Such Things: Reflections of Nature, Waterfall Gallery, New York, NY
2022 Phenomenal Women, Waterfall Gallery, New York, NY
2021 Artful Living Project, Bergdorf Goodman, New York, NY
2020 Restore, Waterfall Gallery, New York, NY
2019 Re: Collection, Waterfall Gallery, New York, NY
2018 Infinite Grace, Waterfall Gallery, New York, NY
2018 New Book, Waterfall Gallery, New York, NY
2017 Trees, A society grows great when old men plant trees whose shade they know they shall never sit in, Valley House Dallas, Texas
2017 Re:collection, Waterfall Gallery , New York, NY
2017 A Sustaining Life, Kate Shin Gallery/ Bergdorf Goodman, New York, NY
2016 A Sustaining Life, Kate Shin Gallery, NYC
2016 The Summer Art Loft, Bergdorf Goodman, New York, NY
2016 The Need for My Care, Kate Shin Gallery, New York, NY
2016 Chasm & Coil, Hudson, New York
2016 Kate Shin Gallery, New York, NY
2014 NYFOL, New York, NY
2014 SculptCAD Rapid Artist, One Arts Plaza, Dallas Texas
2013 Aurora, Dallas Arts District, Dallas Texas
2013 Sculpt CAD Rapid Artists, Dallas Texas
2011 Dallas Contemporary Wish! Dallas Texas
2011 Aurora, Dallas Arts District, Dallas Texas
2010 Texas Sculpture Association Juried Art Show
2010 Aurora Old City Park, Dallas, Texas
2010 HCG Summer Selections
2010 SculptCAD Rapid Artist, Anaheim, California
2010 TractorBeam Gallery
2010 Dallas Contemporary Wish! Dallas, Texas
2010 Fresh Faces 2×2, Dallas Texas
2009 Texas Sculpture Association Juried Art show @ HCG Gallery
2009 D Art Slam at f.i.g. Dallas, Texas " Winner of the New Dallas Nine Award"
2009 Off the Grid, Dallas Texas
2009 HCG Gallery, New Year New Art, Dallas Texas
2003-2009 Cedars Open Art Studios, Dallas, Texas
2008 HCG Gallery, 2man show with Michael Ledoux, Dallas Texas
2008 North Texas Business for Culture and the Arts, Dallas Texas
2004 ALLO at Meyerson Symphony Center, Dallas, Texas
2004 Janette Kennedy Gallery, Dallas, Texas
2004 Erykah Badu's B.L.IN.D, Dallas Texas
2002 Pennington/Longhofer, Dallas Texas
2002 Museum Works Gallery, Aspen Colorado
Solo Exhibitions
2021 Bi-annually, Parigi, Dallas Texas
2012 Leaving the Shade, Sur La Montagne, Berlin Germany
2011 Transcendence, The Dallas Arts District
2011 Annually, SP Studio, Dallas Texas
2004-2015 bi-annually, Parigi, Dallas, Texas
2008 Alana, Sydney, Australia
2008 Steel, Atlanta, Georgia
2008 Steel, Dallas, Texas
2006 Dwellings, Dallas, Texas
2003 Dralion, Dallas, Texas
2003 Manhattan, Dallas, Texas
2002 Metropolitan, Dallas Texas
Selected Publications
Art&Seek, Fort Worth Public Art to Premiere New Media, August 21, 2021
D Magazine, Aurora Returns in October with a Drive-Thru Exhibit, Sept 25, 2020.
Dallas Observer, 10 People and Places Were Thankful for in the Dallas Culture, by Lauren Smart, Nov 25th, 2015.
The Book, Neiman Marcus, Living Color, by Tracy Achor Hayes, photography Ruven Afanador, April 2015, page (66)
Culture Map, "2013: 10 must-see moments at transformative Dallas Arts District experience", by Kendal Morgan, October, 10, 2013
The Creatorsproject, "Dallas Gets Flashier with Arrival of the Aurora Light Festival", by Julie Baumgardner, October 2013
Hyperallergic, "For One Night, a City Lights up with Art", by Sarah Walko
Front / Row D Magazine, "Interview: Artist Shane Pennington on His LED Curtain Installation at City Performance Hall", by Peter Simek, September 2012
CBS DFW, "Light Shines on Dallas Arts District for Aurora 2011", by Maddie Grussendorf, October 24, 2011
FD Luxe, "Hocus focus: Aurora art experience to transform the Wyly Theatre", by Christopher Wynn, October 2013
On Magazine, "Why Texas?" The Texas Issue, 2010 (page 10)
"Rise" The Rise of Artists in the Dallas Cedars Arts Community, Joshua King, January 201 (pages 44-45)
D Magazine, "The New Dallas 9" Announcing the winners of the D Art Slam at f.i.g., D Magazine, by Joan Arbery, August 2009 (page 66-71)
"Annual Guide to the Internet: The Top 500 Artist Websites in 2009", Catalogue, Volume 13 Number 11/12 page 79, NYArts Magazine, International Edition, 2009
Dallas Modern Luxury, "The Radar Dallas Now", March 2007 (page 54)
FD luxe, "The Cedars: Art Takes Root in the Shade of Downtown", Interview, September 2005, (page 25)
Dallas Modern Luxury, "Starting with a Bang", Interview, June 2005 (page 20, 46, 48, & 160)
Front Desk Magazine, "Culture/ Shane Pennington", Interview, May 2005, (pages 54-55)
"Art Attack, Here & Now", Interview, Where Magazine, March 2005 (page 9)
Selected Collections
Caldwell, Cassady, & Curry Law Firm, Dallas, Texas
Patty Alper, Hyattsville, Maryland
Miky Lee, South Korea
Nancy and Richard Rogers, Dallas Texas
Madison and John Isner
Moody Performance Hall, Dallas office of Cultural Affairs, City of Dallas
Nancy Rogers, Dallas, Texas
Debbie & John Tolleson, Dallas, Texas
Café Momentum, Dallas, Texas
Myron Kunin Art Collection, New York, New York
Charles and Dee Wyly Art Collection, Aspen Colorado
Alana, Sydney, Australia
JP Morgan Chase Tower, Dallas Texas
Gaedeke Group, Dallas, Texas
G.A. Donovan Consulting Corp, Boston, Massachusetts
Amerest Acturus corp, Dallas, Texas
Autonomy etalk, Dallas Texas
Keiko Ibi, New York, New York
Silver Lining Foundation, Aspen Colorado
Erykah Badu, Dallas Texas
Johnny Bench, Cincinnati, Ohio
Joanne McLaughlin, Toronto, Canada
Jacques Nasser, New York, New York
Dick and Bobbi Snyder, Dallas Texas
Karla and Mark McKinley, Dallas Texas
Christopher Reed, Paris France
Richard Farmer & Kirsten Lee, Los Angeles
Creative Director/Aurora New Media
Aurora 2021, Pioneer Tower, Fort Worth Texas
Aurora 2020, Dallas City Hall, Dallas Texas
Aurora,2018, Dallas City Hall, Dallas Texas
Aurora,2016, Dallas Arts District, Dallas Texas
Aurora 2015, Dallas Arts District, Dallas Texas
Aurora 2013, Dallas Arts District, Dallas Texas
Aurora 2011, Dallas Arts District, Dallas Texas
Aurora 2010, Heritage Village, Dallas Texas
Set Design
Bloom 2016, SIX, Bruce Woods Dance Project, Dallas TX
Support with Art for Charities
Dallas Contemporary Wish!
The Children's Assessment Center
Dallas Children's Advocacy Center
Human Rights Campaign, Washington DC
North Texas Business for Culture and Arts
AIDS Interfaith
African American Museum of the Arts
Dallas Museum of Art
Two x Two, AMFAR, Sponsored by DMA & Hotel
SPCA
Black Tie Dinner, Dallas Texas
North Texas Special Olympics
Reading and Radio Resources
Troy & Emmitt Charity Classic
Local Support and Contributions of art supplies for Homeless artists